James (Jimmy) Rea Todd was born in 1924 in Northern Ireland. Initially he played rugby for Queen's University
(Belfast) RFC in Ireland, Cambridge University in England and London Irish also in England. Todd relocated to East
Africa in late 1948 early 1949. He joined Nairobi powerhouse Nondescripts where he quickly became established
and made the fly half position his own.
Nondescripts and Todd won the coveted Enterprise Cup in 1949 after defeating arch-rivals Eldoret 11-0 in the Cup
final. This was the first time the Cup returned to Nairobi since the white shirts victory of 1938. The University of Cape Town from South Africa toured in late 1949 and early 1950 playing three tests against an East Africa 15's which was constituted for the very first time. Todd was first capped for the second test at fly-half in the match at the Royal Agricultural and Horticultural Showground in Nakuru on 21 January 1950 with the locals losing by 16 points to nil.
In his second game at the Nairobi City Stadium on 28 January 1950, 'East Africa won the ball in a scrum-down after a quick heel, Todd caught the entire UCT defence on the wrong foot as he came round the blindside, took out the
blindside winger, passed perfectly to winger George Simpson who scored,' reported the Kenya Weekly News.
This game was preserved for posterity on home video and East Africa lost 9-28 to the University of Cape Town.
Todd and Nondescripts lost the Nairobi District and Championship to Nairobi Railway Club but retained the
Enterprise Cup after defeating Eldoret in the Cup final on 6 August 1950.
'Jimmy Todd, the mercurial white shirts outside half had two shirts ripped off his back by the marauding Eldoret back row in the Cup final. Nondescripts were too good for the men from 64 and won by 18 points to nil. The Eldoret forwards played a splendid game but it was their three-quarter line who let them down reported, the East Africa Standard the next day.
In 1951 Nondescripts again retained the Enterprise Cup, this time beating 1948 winners Nakuru RFC. The white
shirts won the easiest Cup final in years scoring 32 points to nought, a new Enterprise Cup final winning margin.
They also recaptured the Nairobi District and Championship as well as retaining the Royal Armed Forces Sevens
tournament.
In September 1951, the Combined Oxford and Cambridge University rugby team made a stopover in Nairobi on their
way home from a tour of South Africa. The Kenya 15's side played them at Mitchell Park (Jamhuri Park from
1964).Jimmy Todd was first capped for Kenya at fly-half against the Combined Oxford and Cambridge University
side.
The match was played shortly after our season and the visitors from a successful tour against the Universities' of
the Union of South Africa, proved too strong for the Kenya team winning by 44 points to 5,' recorded the history
book Rugby Football in East Africa 1909-1959. Sol Rabinowitz scored Kenya's sole try converted by his Nondescripts
confrere Todd. Todd and Rabinowitz both scored for Kenya on debut joining the select few with that distinction.
Todd was also among the select few who was first capped for East Africa before earning a Kenya cap alongside,
Kitale's William Russell 'Rusty' Millar, Alex 'Sandy' Munro and Alan Mackenzie Dale, Nakuru's Simon David 'Lofty
Reynolds, Nick George Paterson and Chris C. Young, Impalas' Gordon John Bell and Roy J. Leask. Andy C.R.'Kifaru'
Cobb of Thika and Impala, Mombasa's Joseph Ted Kabetu, Lenana School  wonder boys Jackson Eliakim Omaido and Walter Omaido who also turned for Nondescripts and club colleague David H. Evans, John Yakas of West Kenya Oribis, Max Maina Muniafu of Blak Blad of Kenyatta University College and Kenneth Sagala of the University of Nairobi's Mean Machine.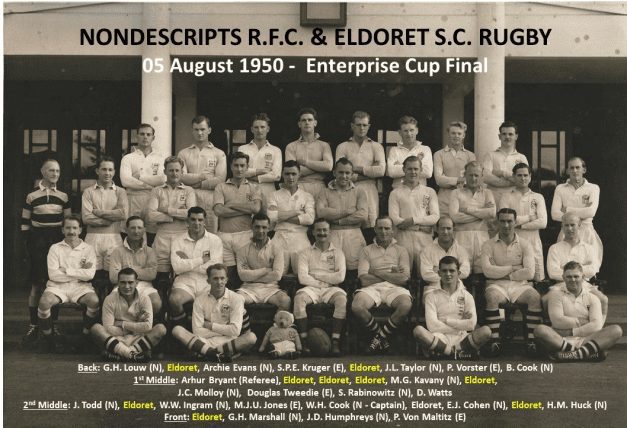 1951 was also the year when Todd was awarded the Nondescripts honors cap after a sterling season. Jimmy Rea
Todd eventually changed clubs moving to Londiani RFC in the Rift Valley Province. He was still Kenya's first choice
fly-half and was capped against Tanganyika at Arusha on 10 July 1954. Kenya won the match 15-9.The Arusha game
was used as a trial match for selecting the Tuskers' side.
Todd became the first captain by 'default' of the inaugural Tuskers on the tour of the Copper belt in August
1954.Todd 'a snappy little Irishman' replaced Allan Irving Maclean, who was originally appointed skipper but pulled
out of the tour as a result of his forthcoming wedding to Mary. McLean and Todd had both represented Kenya in the
match against Tanganyika.
Todd scored the touring teams first ever try against Ndola Wanderers at Ndola Club when he surprised the
defenders who were still looking at the ball in the dead ball area after a missed penalty.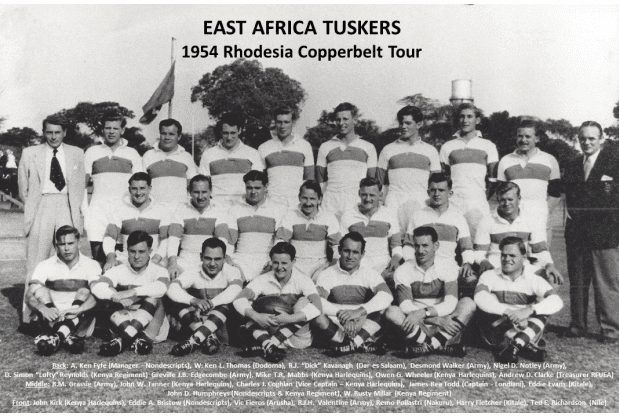 Northern News of Northern Rhodesia for 22 August 1954 reported. 'From a penalty awarded in the 15th minute for a scrum infringement, Nigel Notley took the kick well and missed but the ball did not go dead. As a result of quick thinking by Jimmy Todd, the tourist's captain followed up fast on the kick and secured a touchdown from a muck of Ndola players who were completely taken by surprise by this opportunist move. Grenville Edgecombe converted.
'With his safe hands and balanced running he appeared to mesmerize possible tacklers after drawing 2 men and
opening up the game as only born stand-offs are able to do' wrote Andrew Clarke and Ken A. Fyfe tour managers of
the inaugural Tuskers team. 'But captain and fly-half Jimmy Todd was outstanding and no flank forward could hold
him' read another report summarizing the inaugural Tuskers tour.
In total they won 7 of the 8 matches played and only lost to the Copper belt XV. The tour managers Allan Ken Fyfe
and Andrew Clark in their tour report stated 'The tour was an exceptionally arduous one, eight matches being
played in the span of 15 days, and the only match lost was against the full Copper belt side, which contained six
Rhodesian caps and eight Northern Rhodesian caps.
'All in all Jimmy Todd was an immensely talented maverick, who not only started the game but finished it in style,
doing an abudance of skilled original and intelligent things. 'Added Simon David 'Lofty' Reynolds his Tusker colleague on the tour of Northern Rhodesia in 1954.'Simon was speaking in 2016
Jimmy was Londiani skipper, an administrator as well-serving as President of Londiani Sports Club in 1955 and 1956
and eventually terminated his career with the Rift Valley based side.
To paraphrase Nondescripts club historian William Cherry, 'Jimmy was keen on the preservation of Nondescripts and by extension East Africa's rugby history. He took the cause to heart by donating his boots and the ball used on the 1954 Tuskers tour of Northern Rhodesia.
A lasting gift to the preservation of the memory of our game. The two items will be kept in the Nondescripts Red
Lion museum in Nairobi-Kenya.'
Jimmy bowed out in Northern Ireland 7 September 2021.
– Paul Okongó
East African Rugby Historian