The Kenyan trio will be on duty at the Rugby Africa Regional South 2022 Tournament that runs on the 29th and 30th January in Lesotho in their various capacities.
Peris Mukoko, Michael Mwanja and Beryl Akinyi have all been appointed to serve during this weekend due to their experience in their respective categories. Mukoko is a World Rugby Accredited Match Officials Educator, will be on duty as a Coach of Match Officials during the tournament. "My role at the tournament will be coach of match officials, working closely with Mudiwa Mundawarara the Rugby Africa Referee Manager in overseeing the continuous development of the upcoming and panel match officials during the two-day event."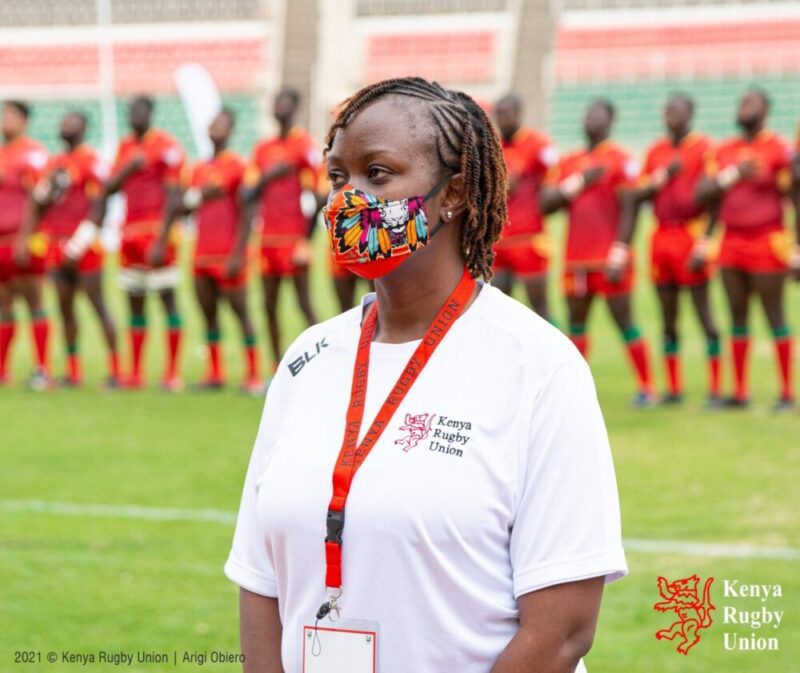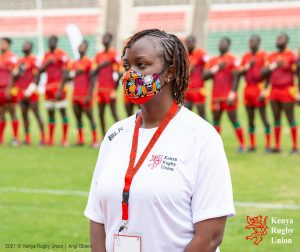 "Prior to that we will have a workshop/clinic with the match officials and the Lesotho Referees Society on Friday where we will go through the overall Rugby Africa tournament manual guidelines, World Rugby Laws & the 7s variations in preparation for the tournament."
When asked about her thoughts on the appointment, Mukoko said it's an exciting opportunity to visit a new country in Africa and also to see where the game continues to spread. She is looking forward to working with the ladies and the gents who will be on the field and more so experience the atmosphere of 7s (Pre) Qualifier tournament Men & Women for Southern Africa which has 9 teams in total taking part.
The tournament will have five female teams that will be actively participating and two female match officials from the upcoming RA panel. "This is an increase from what we have seen in the past and it will give the participants the much needed practice and game time. Long term, such tournaments will position women's rugby in Africa to be globally competitive," concluded a very enthusiastic Mukoko.
Michael Mwanja who works as KRU's Fixtures and Competitions Administrator is a World Rugby Accredited Match Commissioner and he will be on duty at the tournament in that capacity.
The Match Commissioner is a senior official at the match venue and will be responsible for matters related to the playing enclosure, the conduct of the match and the elements related to teams in the organization of each match.
In the case of a regional or national tournament, the Match Commissioner will represent the regional or national body under whose jurisdiction the match is taking place. In this case, Mwanja will be representing Rugby Africa which is the regional organizing body.
The responsibilities of the Match Commissioner shall include decisions related to the delay of matches and implementation of such decisions in accordance with the Terms of Participation for the match or tournament in question.
The Match Commissioner also adjudicates on Team Managers' disputes where appropriate, including disputes regarding the three main areas of adherence to the match day run sheet, field of play and Terms of Participation.
"It is a privilege and a singular honour to be appointed as the Match Commissioner by Rugby Africa. When you work hard repeatedly, you will eventually get rewarded and having spent so many hours managing KRU's leagues and tournaments, it'll be a huge honour to serve for Rugby Africa at Maseru in Lesotho."
"I'd want to take my experience international and this is a great start" he concluded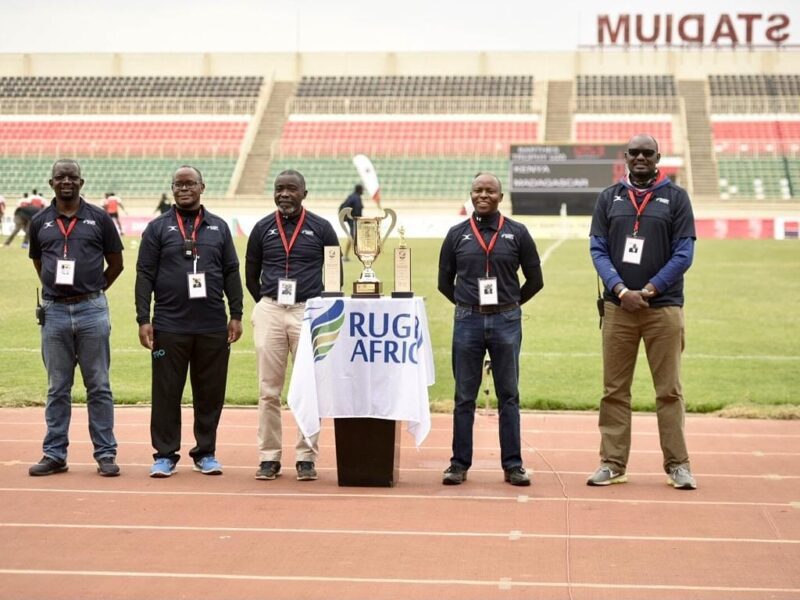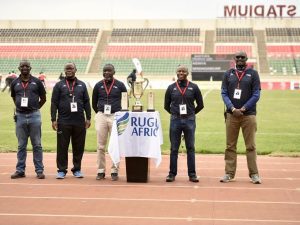 The third official on duty is one Beryl Akinyi, a World Rugby Accredited Level Two match official. She has officiated in five Rugby Africa tournaments over the last few years: The 2019 Regional Africa 7s in Lesotho, U20 Barthes Trophy(Nairobi) 2021, 2021 Rugby Africa Cup (Uganda), the 2021 Rugby Africa women's 15s in Tunisia and The 2021 Regional Africa 7s West in Ghana. This will be her sixth tournament.
"It is always an honour and a privilege to get appointed for any Rugby Africa Tournament. It is a good platform for us(Kenyans) to showcase our standards of officiating, and also I get to share what I have learnt with my fellow match officials back home," said Beryl.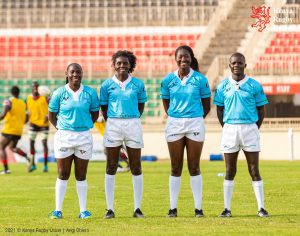 Her message to the upcoming female match officials in Kenya is "Good things take time, believe in yourself, work hard and love what you do."
The Seven's Regional tournament South Group features four Men's teams (Mauritius, Botswana, Eswatini and Lesotho) and five women's teams(Mauritius, Botswana, Eswatini, Lesotho and Zimbabwe) serves as a qualifier for the Africa Men's and Women's Sevens which will in turn serve as qualifiers to both the Sevens World Cup and Commonwealth Games. From the South Regional Sevens tournament, 2 men and 1 women teams will qualify for Africa Men & Africa Women Sevens tournaments respectively.