The pools for the fourth round of the National Sevens Circuit, the Dala 7s have been confirmed by the Kenya Rugby Union.
Mwamba, winners of the third round in Mombasa head to the lakeside city of Kisumu as top seeds, headlining Pool A which features Nondescripts, Nakuru and hosts Kisumu.
Pool B comprises Driftwood 7s losing cup finalists Menengai Oilers, Kabras Sugar, Daystar Falcons and Masinde Muliro who earn an invite after missing out on the action in Mombasa.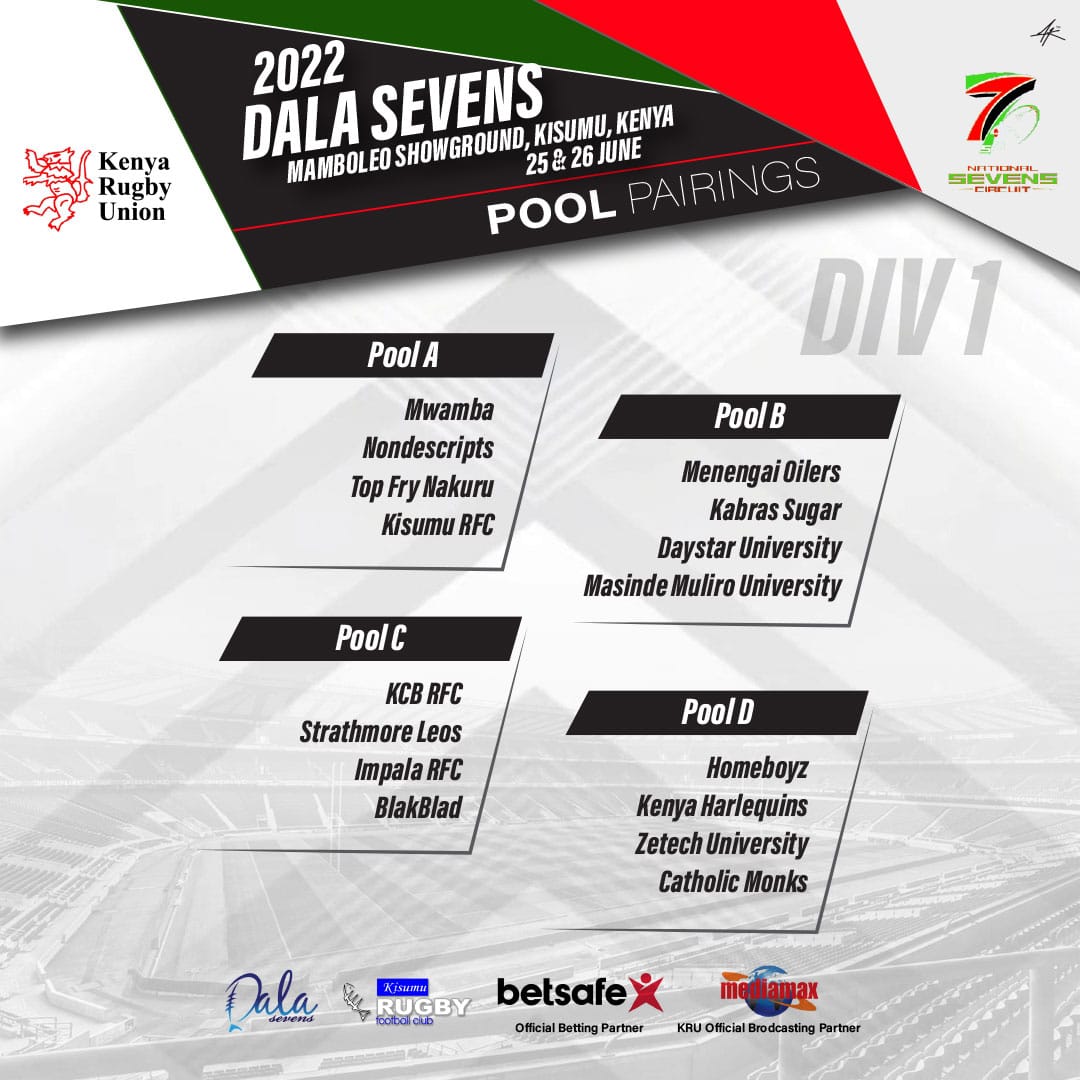 National Sevens Circuit champions and current leaders KCB put their title defense in Kisumu on the line when they go against Strathmore Leos, Impala and Blak Blad in a competitive Pool C as Homeboyz,Kenya Harlequin, Zetech Oaks and Catholic Monks complete Pool D.
The second tier competition has attracted 24 teams split into 6 pools of 4 teams each.
The competition takes place on 2/3 July at the Jomo Kenyatta Stadium in the Mamboleo area of Kisumu.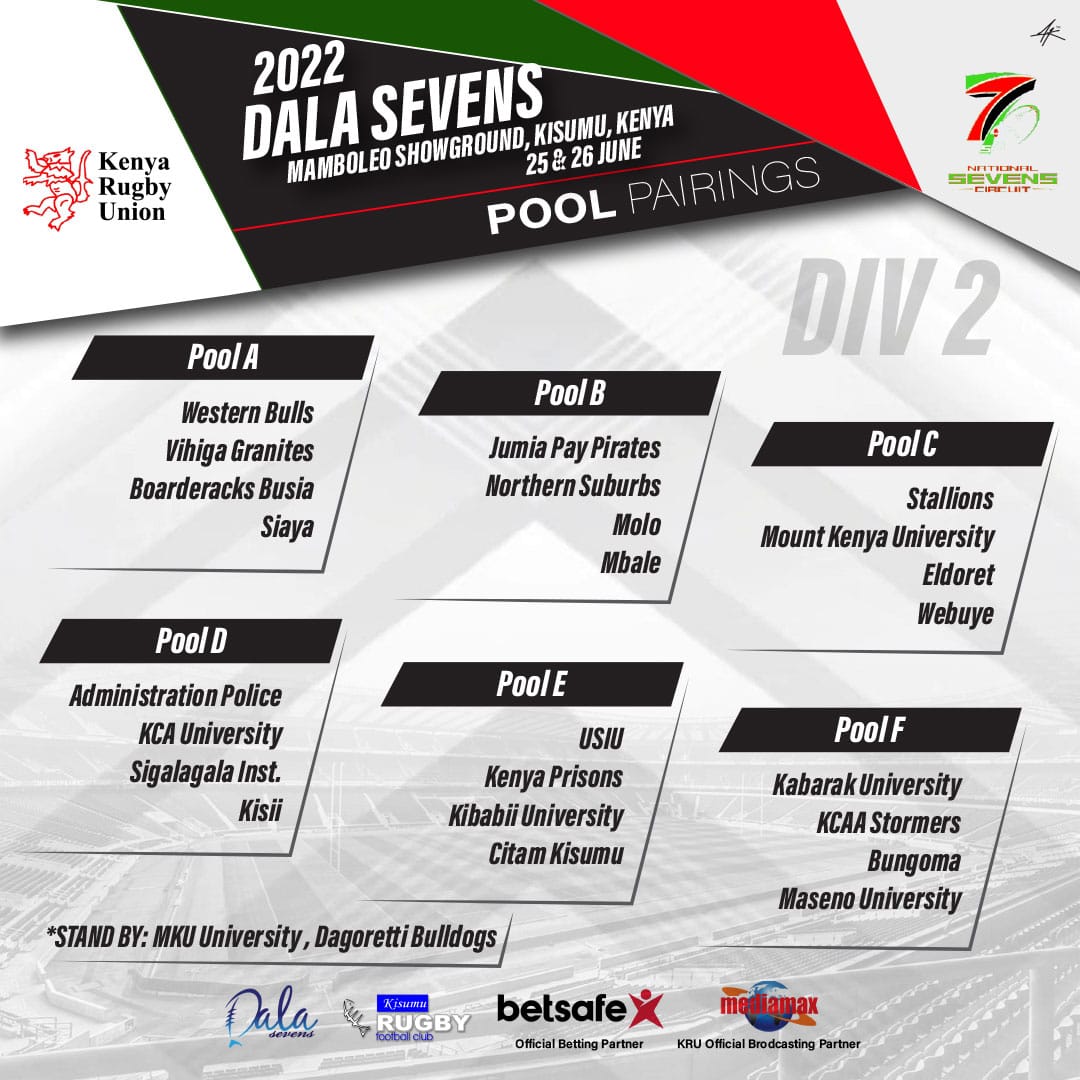 Division 1 Day 1 Order Of Play, 2 July 2022
POOL A: Nondescripts v Nakuru 9.00am
POOL A: Mwamba v Kisumu – 9.20am
POOL B: Kabras Sugar v Daystar Falcons – 9.40am
POOL B: Menengai Oilers v Masinde Muliro – 10.00am
POOL C: Strathmore Leos v Impala – 10.20am
POOL C: KCB v Blak Blad – 10.40am
POOL D: Kenya Harlequin v Zetech Oaks – 11.00am
POOL D: Homeboyz v Catholic Monks – 11.20am
POOL A: Nondescripts v Kisumu – 11.50am
POOL A: Mwamba v Nakuru – 12.10pm
POOL B: Kabras Sugar v Masinde Muliro – 12.30pm
POOL B: Menengai Oilers v Daystar Falcons – 12.50pm
POOL C: Strathmore Leos v Blak Blad – 1.10pm
POOL C: KCB v Impala – 1.30pm
POOL D: Kenya Harlequin v Catholic Monks – 1.50pm
POOL D: Homeboyz v Zetech Oaks – 2.10pm
POOL A: Nakuru v Kisumu – 2.40pm
POOL A: Mwamba v Nondescripts – 3.00pm
POOL B: Daystar Falcons v Masinde Muliro – 3.20pm
POOL B: Menengai Oilers v Kabras Sugar – 3.40pm
POOL C: Impala v Blak Blad – 4.00pm
POOL C: KCB v Strathmore Leos – 4.20pm
POOL D: Zetech Oaks v Catholic Monks – 4.40pm
POOL D: Homeboyz v Kenya Harlequin – 5.00pm
Download the complete order of play here https://www.kru.co.ke/download/2022-dala-7s-order-of-play-div-1-2/