The cup quarterfinalists at the Prinsloo 7s are now known following completion of pool play on match day 1 at the Nakuru Athletic Club.
Defending champions Menengai Oilers, hosts Nakuru and circuit leaders Kabras Sugar headline the quarterfinalists and they are joined bv Homeboyz, KCB, Kenya Harlequin, Strathmore Leos and Mwamba.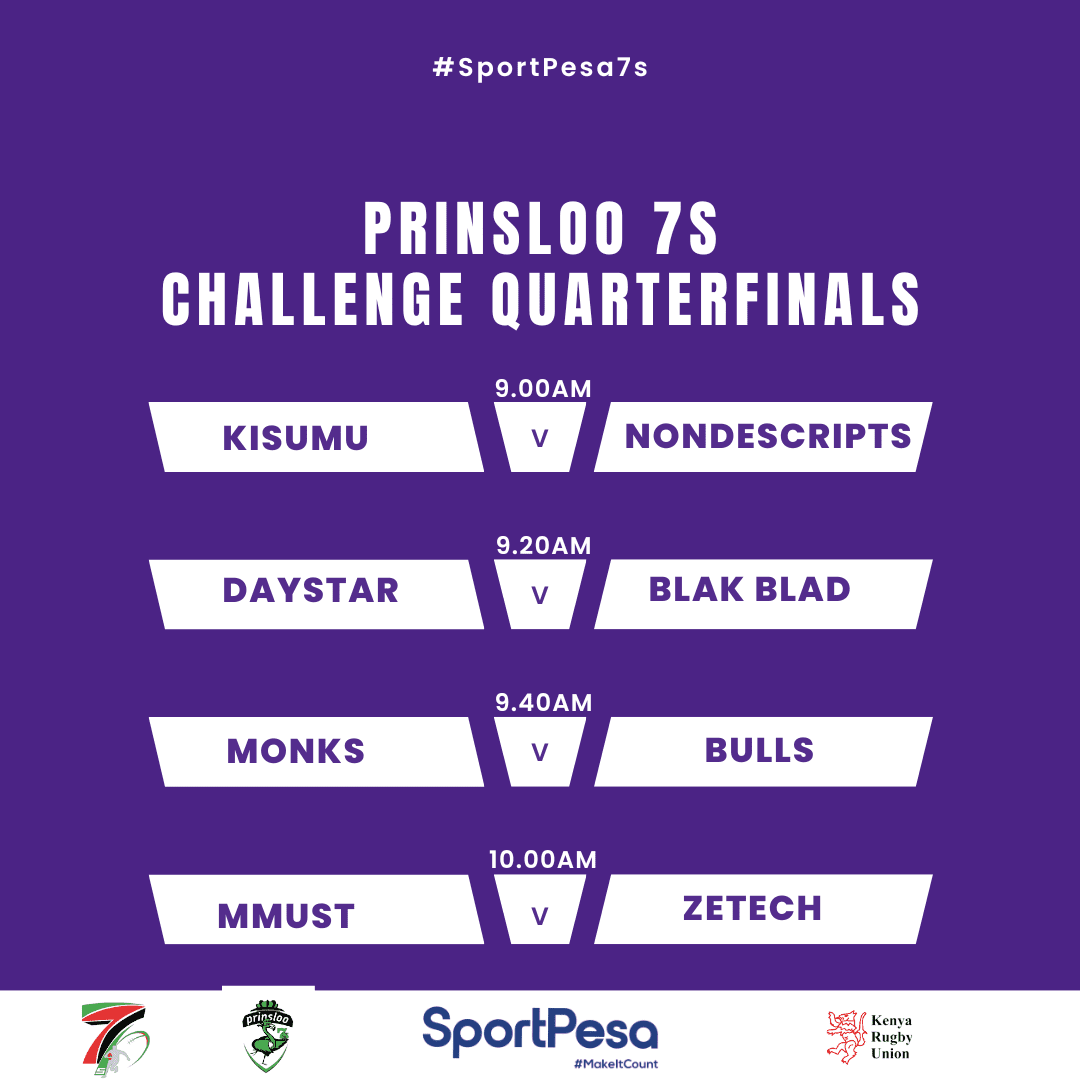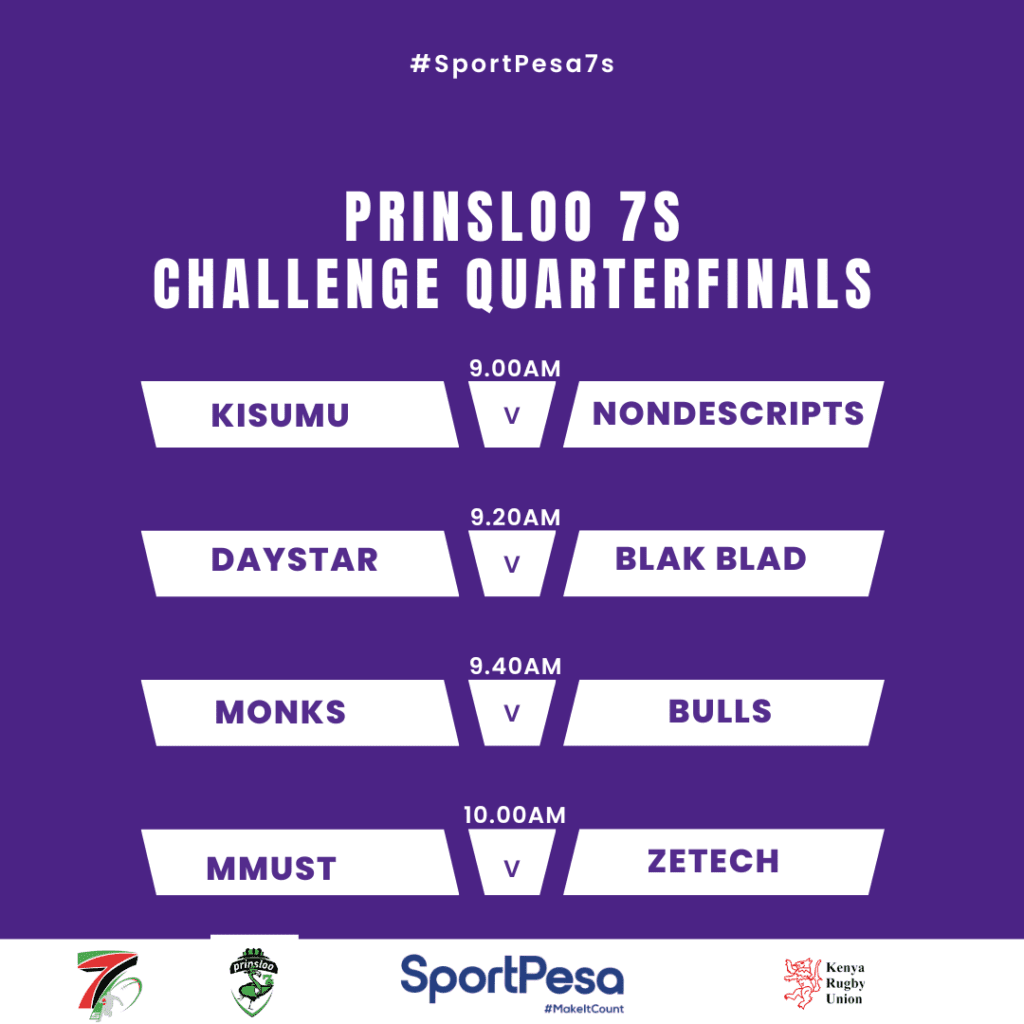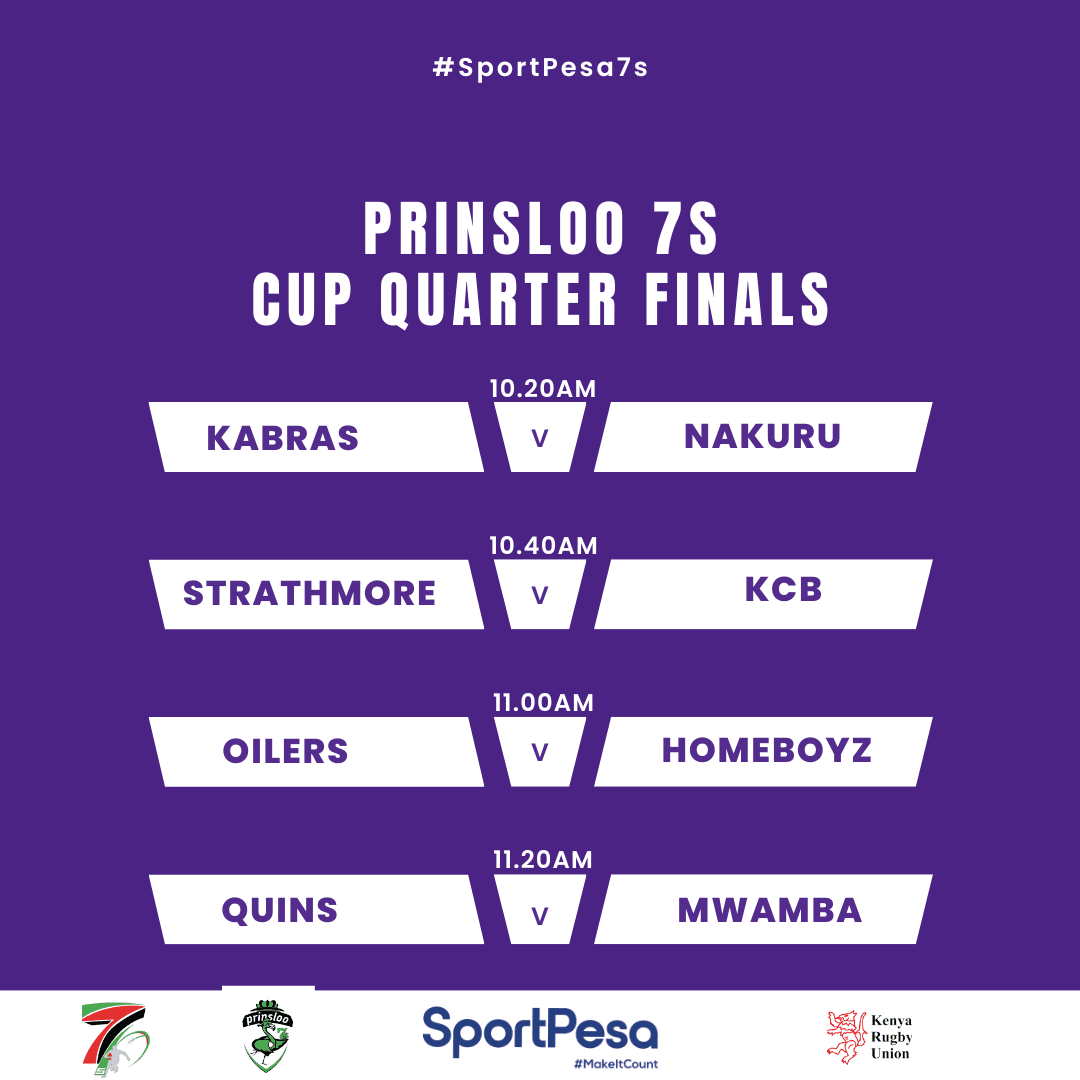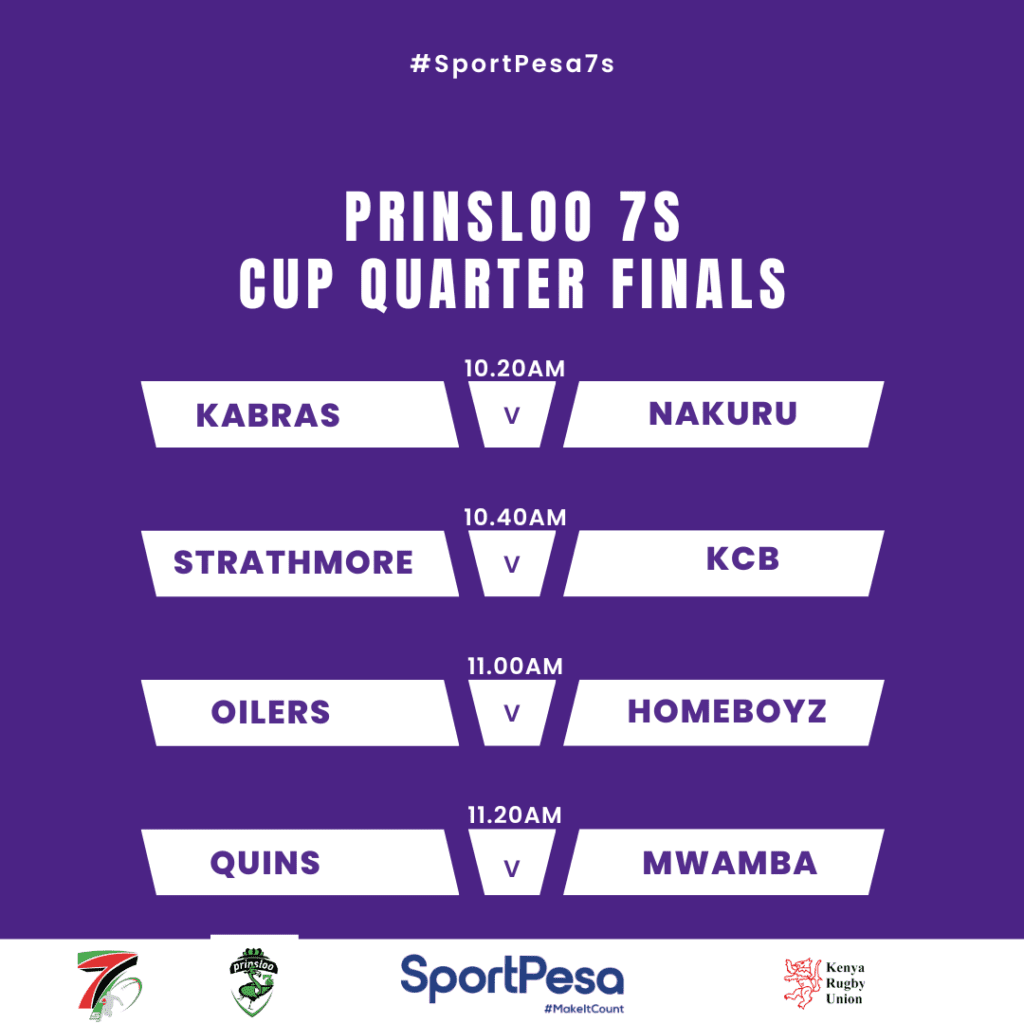 We are done with day one of the Prinsloo 7s, the third round of the SportPesa National 7s Circuit. Here is your complete match day 1 round up.
Round 3:
Kabras Sugar made sure of pole position in Pool A with a 24 -12 victory over Kisumu. Griffin Chao landed two tries with Jone Kubu and Lameck Ambesta adding one each. Eric Cantona and Kubu managed a conversion each for the sugarmen while Caxton Aresi and Walter Ambe touching down for Kisumu while John Ochar kicked over a conversion.
Homeboyz finally picked up a win, defeating Western Bulls 28-12 in their final Pool A fixture.Ramadhan Masete scored a brace for the deejays with Brayan Juma and Emmanuel Mbaka adding a try apiece. Juma added three conversions with Mbaka drilling home a conversion while Nickson Manduku and Anthony Odwuor scored a try apiece for Bulls with Evans Shikoli managing a conversion.
Hosts Nakuru were 26-5 winners over Catholic Monks in Pool B. Isaac Kubasu scored the sole try for Monks before Nakuru scored four tries through Chrisant Ojwang who landed a hat trick and Glibert Ochieng with James Macharia drilling home two conversions as Paul Lusesi added a solitary conversion.
Masinde Muliro made sure of a win in Pool C after seeing off Blak Blad 12-5. They scored their tries through Joseph Omulefu and Veron Kaburu with Byron Ogada adding a conversion. Otieno Oyoo scored the lone try for Blad.
Kenya Harlequin claimed the scalp of KCB to finish top of Pool C with a 24-5 victory. Quins scored three tries through Paul Mutsami, John Kibii and Cornelius Mokoro with Amon Wamalwa managing two conversions. They were also awarded a penalty try. Edmund Anya scored KCB's consolation as they finished second.
Strathmore Leos finished top of Pool D with a 19-14 win over Mwamba.
George Ooro, Richard Omedo and Joseph Ayiro scored for the students with Brunson Madigu managing two conversions.
Tony Omondi scored a try and kicked over two conversions with Michael Ochieng adding Mwamba's second try.
Daystar Falcons finished third in Pool D with a 19-12 result over Zetech Oaks. The Falcons scored their tries through Patrick Odongo, Duncan Olile and Augustine Owino with Clinton Kioko and Meshack Andale each kicking over a conversion.  Zetech landed tries through Byron Otieno and Brayan Ondego who also added a conversion.
Round 2: Kabras, Oilers, KCB, Quins seal cup quarterfinal qualification
Kabras Sugar made it two wins from two in Pool A with a 31-7 result over Kakamega town rivals Western Bulls. Griffin Chao and Lameck Ambetsa scored two tries each with Bryceson Adaka landing once as Erick Cantona kicked over two conversions with Brian Tanga adding one. Bryum Mukhonyi scored and converted his own  try for Bulls.
The second fixture in the pool saw Kisumu bounce back from their opening defeat, registering a 19-17 victory over Homeboyz. Israel Makokha, Beverly Obuya and Maurice Kennedy scored a try each for Kisumu with Lenny Obiero and Walter Ambe sharing conversions. Brayan Juma, Collins Ochieng and Brighton Bakasa scored one try each with Brayan Juma managing one conversion.
Hosts Nakuru and Nondescripts played to a 10-10 draw in Pool B. Fiden Tony landed an unconverted brace for Nondies while Nakuru responded with tries from Amos Obae and Habakkuk Ouma.
Menengai Oilers registered their second win, defeating Catholic Monks 24-7 to get a whiff of the cup quarters. They were inspired by Beldad Ogeta's brace with John Okoth and Herbert Ochieng weighing in with a try apiece. Geoff Ominde and Dennis Abukuse managed a conversion each. Felix Okumu scored the sole try for Monks with Wilson Juma converting.
Kenya Harlequin were given a scare by Masinde Muliro before pulling away to win 26-12 in their second Pool C encounter. Masinde Muliro led 12-7 through tries from Josephat Omulefu and Musa Mugandi. Omulefu managed a conversion that put them five clear of Leon Nyang's try that was converted by Amon Wamalwa. Further tries from Felix Makokha, Dave Mwaura and Cornelius Mokoro amidst two more conversions from Wamalwa sealed the result for Quins.
Blak Blad ran KCB close but eventually lost out as the bankers won 19-14 to secure their second successive Pool C victory. Blad went ahead through Mejja Mulongo with Ian Kitutu converting for a 7-0 lead before KCB responded through Geoffrey Okwach who scored and converted his own try to tie the score.  Saleh Wesonga touched down with Gundaru converted for Blad.
Vincent Onyala and Austine Sikutwa scored for KCB with Levy Amunga converting to seal the victory for the bankers.
Mwamba were again made to work hard for victory in Pool D, this time defeating the Daystar Falcons 19-12. Steve Sikuta, John Oduk and Tony Omondi were Mwamba's try scorers with Omondi adding two conversions. Sylvester Miheso and Floyd Wabwire touched down for Daystar with Meshack Andale kicking over one conversion.
Strathmore Leos made sure of a place in the cup quarters with a 24-12 victory over the Zetech Oaks. Victor Odhiambo scored two tries with Barnabas Owuor and Richard Omedo landing one each as Brunson Madigu scored two conversions. Brayan Ondego and Johnson Mabonga scored tries for Zetech with Anderson Oduor kicking over one conversion.
Round 1: Kabras survive Homeboyz scare as Bulls upset Kisumu
Western Bulls claimed the day's first upset, defeating Kisumu 14-12. Anthony Oduor and Nickson Manduku were the try scorers for Bulls with Byrum Mukhonyi stroking home two conversions as Washington Ochieng and Walter Ambe touched down for Kisumu with Maurice Kennedy weighing in with a solitary conversion.
The second fixture in Pool A saw Kabras Sugar survive a scare from Homeboyz, rallying from 7-19 down to score two converted tries for the 21-19 victory. Kabras scored their tries through Lameck Ambetsa, Jone Kubu and Dan Angwech with Eric Cantona managing two conversions as Kubu drilled one over. Ramadhan Masete scored twice for Homeboyz with Brian Mutua adding a third as Brayan Juma stroked home two conversions.
Pool B action also kicked off with an upset, the Catholic Monks pulling off the 19-14 victory over Nondescripts. The Monks got their tries from Victor Omupere who landed a brace with Isaac Kubasu touching down once as Eric Ogutu stroked home two conversions. Fidens Tony scored a try and two conversions for Nondies as Charles Odhiambo touched down once.
Beldad Ogeta scored the solitary try as defending champions Menengai Oilers defeated hosts Nakuru 5-0 in a tense derby clash that saw John Okoth (Oilers) and Felix Okoth (Nakuru) binned for various indiscretions.
Blak Blad hold Quins
Blak Blad held Kenya Harlequin to a 26-26 draw in the opening Pool C fixture that was a thriller of a match.  Quins raced into a 26-7 lead through tries from Paul Mutsami, Tony Khadambi, Charlton Mokua and Dave Mwaura with Amon Wamalwa scoring three conversions while Blad scored through Arthur Gundaru, Saleh Wesonga, Jared Odhiambo and Derrick Masese as Ian Kitutu scored three conversions.
The second match in this pool saw KCB stave off early pressure from Masinde Muliro, eventually winning this clash 36-7.
Edmund Anya and Levy Amunga landed a brace each with Vincent Onyala and Austine Sikutwa scoring once each as Brian Wahinya drilled home two conversions with Amunga stroking home one.
Paywick Munoko scored the sole try for Masinde Muliro with Byron Ogada adding the solitary conversion.
Mwamba were made to fight for the 10-7 victory over the Zetech Oaks in Pool D, Chrispin Omondi baggin two unconverted tries that took them past the varsity students who managed a try from Anderson Oduor with Brayan Ondego converting.
Strathmore Leos started their campaign with a 24-12 win over Daystar Falcons. The Leos scored their tries through George Ooro, Shem Okola, Stephen Osumba and Brunson Madigu who added two  conversions as Samuel Ovwamu and Augustine Owino were Daystar's try scorers with Meshack Andale slotting home a conversion.
View all the fixtures and results here