Shujaa, as the Kenya Men's National Sevens team is known by its millions of supporters across the globe, made its Rugby World Cup Sevens debut in 2001 at Mar del Plata in Argentina.
Kenya had the previous year hosted the qualifiers in Nairobi, losing 26-14 in the final match to Zimbabwe. The two sides joined South Africa as the continental representatives at the tournament, which was now in its third edition, the first two editions played in 1993 with a follow up in 1997.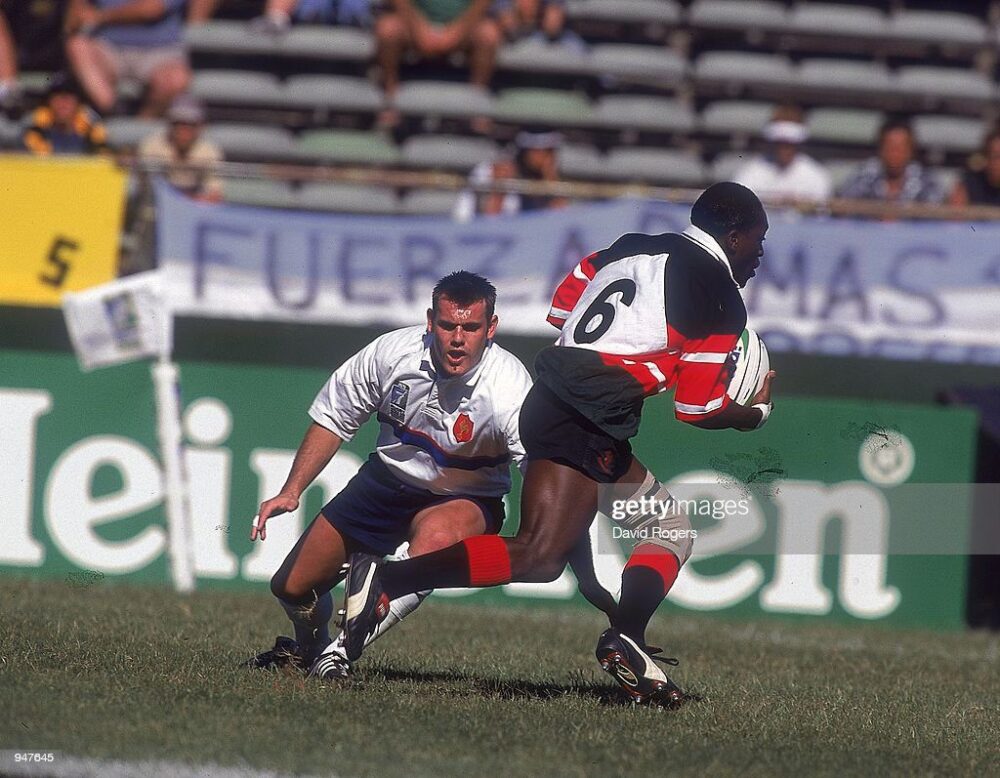 .The side coached by Bill Githinji would lose all their group stage matches and ended up in the bowl quarter finals where they registered their first ever World Cup win, a 12-7 win over France that saw them reach the semis of this category.
The side would fall to a 35-12 bowl semi final defeat to Chile, bowing out of the tournament, but the Kenyans had made their mark.
Kenya's 2001 RWC Sevens Results
Group Stages
17-33 v South Korea
10-31 v Ireland
7-52 v Fiji
7-36 v Argentina
7-14 v Russia
Bowl Quarters
12 -7 v France
Bowl Semis
12-35 v Chile
Kenya Squad to the 2001 Rugby World Cup Sevens Ken Aswani, Benjamin Ayimba (captain), Stephen Gitonga, Allan Hicks, Felix Ochieng, Anthony Ongoro, Allan Wamanga, Mitchell Ocholla, Oscar Osir, Paul Murunga COACH Bill Githinji
2005
Kenya would book a ticket to the 2005 tournament which was held in Hong Kong. The side had by this time announced its presence on the world stage. They had stunned sevens powerhouse Samoa 28-20 at the 2002 Commonwealth Games in Manchester, England.  They would follow this up with a 19-0 win over Wales during the South African leg of the 2003 IRB Sevens Circuit, following this up with a 15-12 win over Australia during the Hong Sevens during the same season. They would earn IRB Core status at the close of the 2003/2004 season, pretty much down to their increasingly solid displays and fanatical following around the world. Kenya easily won the African qualifiers for the 2005 World Cup, defeating all opposition en route to Hong Kong.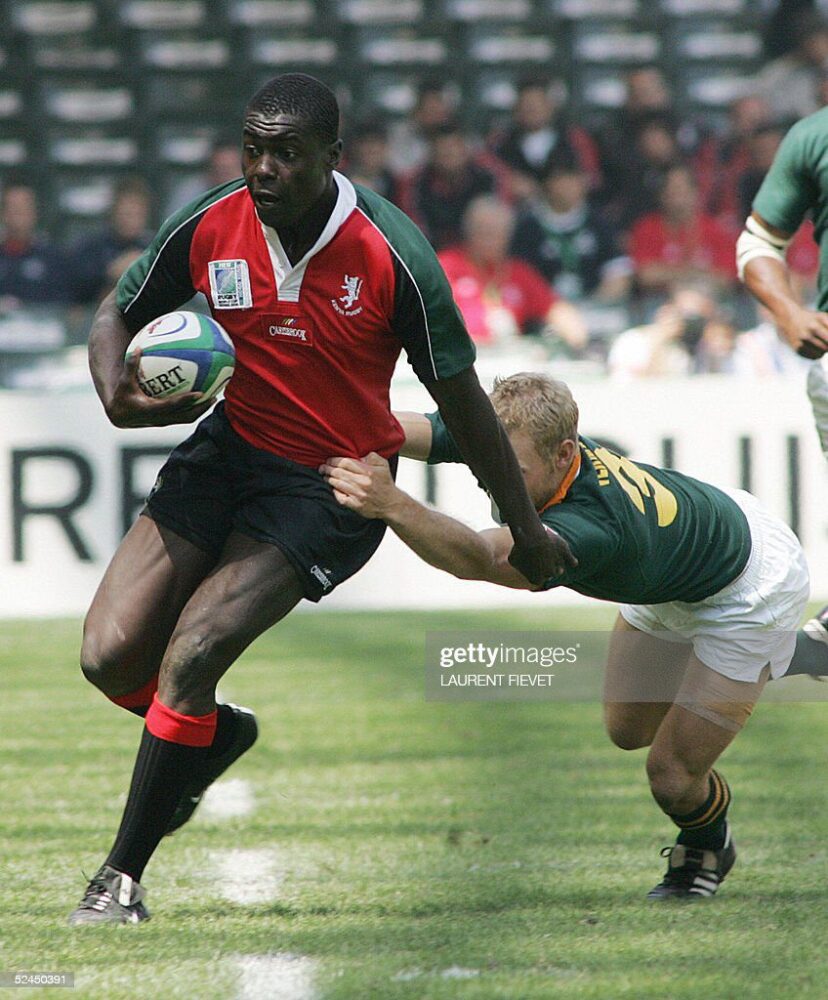 The side doing duty in Hong Kong had Oscar Osir, Felix Ochieng and Benjamin Ayimba, together with Coach Bill Githinji, survivors from the 2001 squad. They were joined by the likes of Les Mango, Victor Sudi and Sidney Ashioya, a bunch of young, exciting players who were making a mark on the game. Big Dennis Mwanja, nicknamed the "Iron Man" would miss out on this tournament with a knee injury.
Their showing was however underwhelming. They beat Uruguay and Tunisia in group play but fell to South Africa, Argentina and Russia. A win over Hong Kong in the Bowl Quarters was followed by a tame loss to Italy in the bowl semis.
Kenya Squad to the 2005 Rugby World Cup Sevens, Felix Ochieng, Peter Abuoga, Edwin Shimenga, Victor Sudi, Leslie Mango, Allan Makaka,Oscar Osir (captain), Benjamin Ayimba, Sidney Ashioya, Lucas Onyango, Newton Ong'alo, Peter Ocholla COACH: Bill Githinji
2009
Bill Githinji was long gone as Kenya Head Coach, Gordon Anampiu, Edward Rombo and Frenchman Christophe Rouchaleou had all handled the side before the Kenya Rugby Union settled on former skipper Benjamin Ayimba to take over the team, assisted by former players Felix Ochieng as Assistant Coach and Oscar Osir as team manager.
Players such as Victor Oduor, Lavin Asego, Humphrey Kayange and Collins Injera had burst onto the limelight as Kenya became a tough nut to crack on the IRB Sevens Circuit, securing successive top ten finishes in the seasons since Ayimba's appointment. They went into the 2009 World Cup in Dubai off a series of strong displays. They were no longer the minnows that they were when they made their debut eight years ago in Argentina. This was a side that could beat anybody on a good day.  Dennis Mwanja would again miss out on the world cup, the knee injury returning to haunt him after stellar form in the intervening years.
Playing in Pool E, Kenya would reach the Melrose Cup quarters as one of the best runners up. They started with a 29-7 win over fellow Africans Tunisia, followed this up with a 43-7 win over Hong Kong before falling to England 26-7.
Up next for Kenya were Fiji, the defending champions. Lavin Asego scored and converted his own try as Kenya led Fiji 7-0 in the main cup quarter finals at half time. Second half tries from Humphrey Kayange, Collins Injera and Biko Adema saw Kenya pull off a huge upset, the 26-7 result knocking out Fiji, Kenya booking a semi final date against Argentina.
The semi final was a tense affair, Argentina edging out Kenya 12-0 to reach the final. Wales beat Argentina to the title.  Kenya had shown remarkable growth thus far.  A feat that earned them automatic qualification to the 2013 World Cup in Moscow as well as respect from the entire world.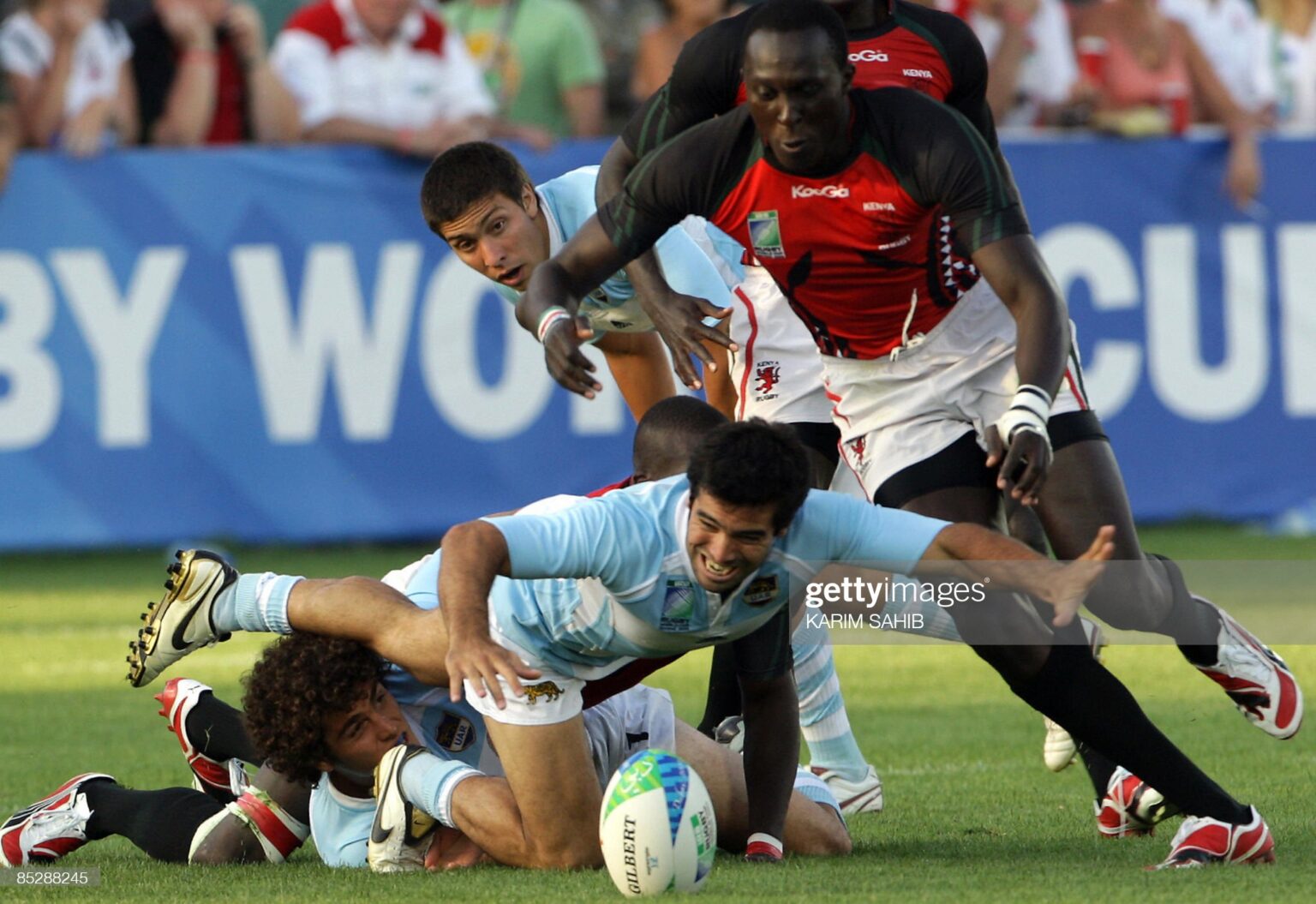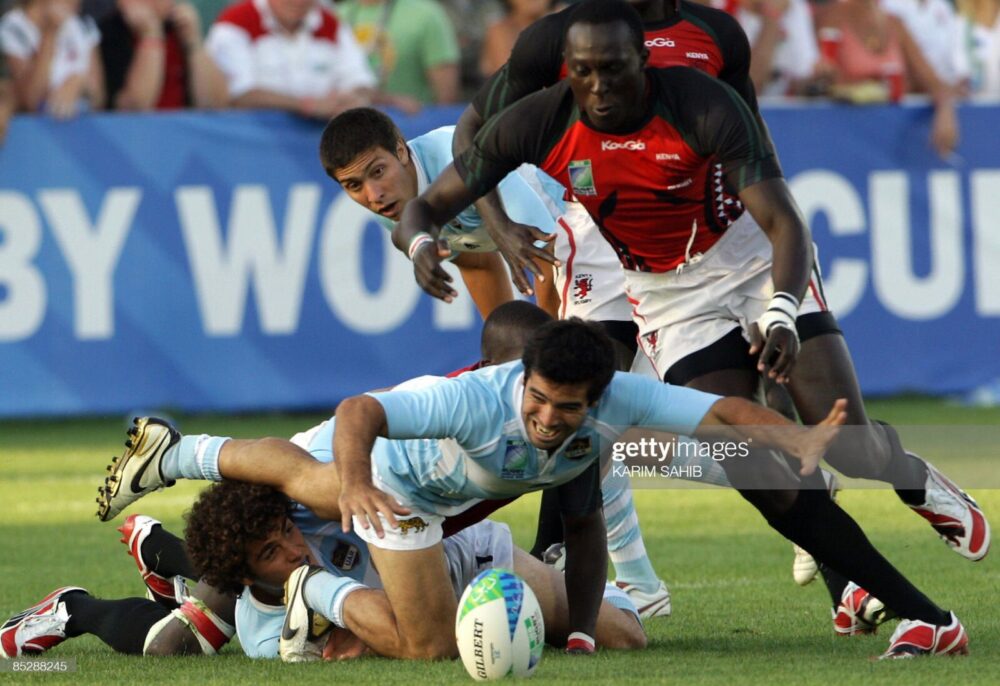 Kenya Squad to the 2009 Rugby World Cup Sevens Humphrey Kayange (captain), Allan Onyango, Victor Oduor, Ben Nyambu, Wilson Kopondo, Lavin Asego, Biko Adema, Innocent Simiyu, Collins Injera, Sidney Ashioya, Gibson Weru, Horace Otieno COACH: Benjamin Ayimba
2009 Results
29-7 v Tunisia
43-7 v Hong Kong
7-26 v England
Main Cup Quarters
26-7 v Fiji
Main Cup Semis
0-12 v Argentina
4th overall
2013 
The team certainly fancied its chances going into the Moscow World Cup. Team Captain Andrew Amonde speaking before the World Cup said, "  We put our minds towards securing a positive result this season and in finishing fifth in the world, I believe we did. We look forward to a very good showing at the forthcoming Rugby World Cup Sevens. The squad selected is the very best and I believe that it has the potential to emerge victorious in Moscow."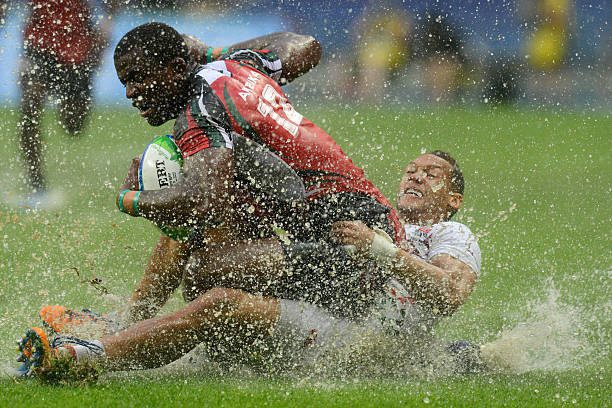 Playing out of Pool C in Russia, Shujaa topped the table with three wins over Phillipines, Zimbabwe and Samoa. They would then defeat France 24-19 in sudden death extra to set up a return to the semifinals for a second successive tournament. They would eventually fall to a 12-5 loss to England at the rain swept Luzhniki Stadium before going down  29-5 to Fiji in the third place playoff.
Kenya Squad to the 2013 Rugby World Cup Sevens Andrew Amonde(Captain),William Ambaka,Eden Agero ,Patrice Agunda,Horace Otieno,Biko Adema,Lavin Asego, Felix Ayange, Michael Wanjala, Collins Injera,Oscar Ouma,Humphrey Kayange COACH: Mike Friday
2013 Results
Pool C
45-5 v Phillipines
31-5 v Zimbabwe
17-12 v Samoa
Cup Quarters
24-19 (aet) v France
Cup Semis
5-12 v England
Third Place Playoff
5-29 v Fiji
2018
Innocent Simiyu, who was a member of the pioneering RWC semifinal class of 2009 was now at the helm of the team. He come off a season in which the side set some milestones, reaching two successive cup finals in Vancouver and Hong Kong while breaching the 100 points barrier as Shujaa claimed eighth place overall on the 2017/18 series log.
He named a squad that featured Collins Injera, a member of the 2009 and 2013 semifinalist squads as well as Andrew Amonde, Willy Ambaka and Eden Agero who were all part of the 2013 squad.
Commenting on his squad selection ahead of the tournament which takes place in San Francisco, USA, Simiyu said, We have a very strong squad based on training. The guys have really trained hard and we believe we have selected the best team that can represent the country. We're looking for good performances from the players and hopefully we can get some good results."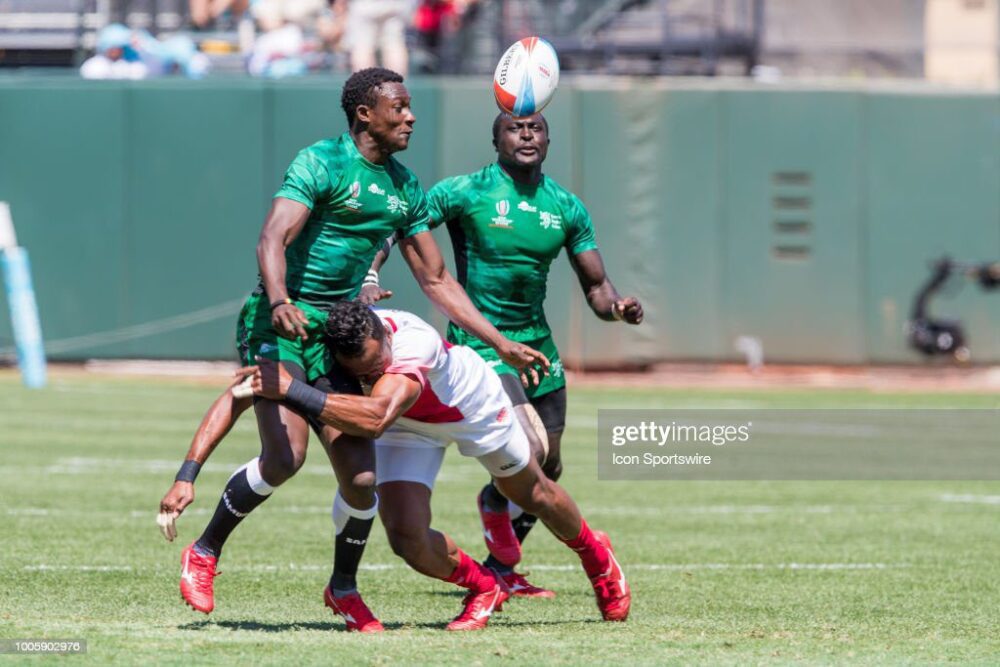 The tournament, played at the AT&T Park in San Francisco, USA adopted a new, knock out only format.
Shujaa started their campaign with a 19-7 victory over Tonga to advance to the round of sixteen where they lost 31-26 to Scotland to drop to the Challenge Trophy quarterfinals where a 24-14 loss to Ireland followed.
Further losses, ( 19-17 to Samoa) and 24-14 to Japan saw Innocent Simiyu's charges finish sixteenth overall.
Kenya Squad to the 2018 Rugby World Cup Sevens:Oscar Ayodi (Captain), Collins Injera, Andrew Amonde , William Ambaka, Samuel Oliech, Nelson Oyoo, Dennis Ombachi, Jeff Oluoch , Brian Tanga , Eden Agero, Herman Humwa, Samuel Ng'ethe COACH: Innocent Simiyu 
*This article was first published on 13 July 2018 and updated on 31 August 2022